The Jennings Team Top 4 Favorite Christmas Tree Farms in Central Iowa
This time of year brings so much magic and happiness as it's a time to celebrate family traditions. One of our favorite traditions is picking out a Christmas Tree to put up and decorate in our home. It is always such a fun experience going out to a Christmas Tree Farm, picking out the best tree and shopping around the gift shops drinking hot cocoa. Keep reading to find out our top 4 local tree farms to get a Christmas tree from this year!
Strautman Tree Farm
58976 290th St. Cambridge, IA
Strautman Tree Farm is open every day between Saturday Nov 21st thru Dec 23rd from 9 am - 5pm. They are located at 58976 290th St. Cambridge, Iowa. Their tree farm offers saws and maps to all their customers to be able to go out into the farm and cut down their own tree. They have workers driving around to help pick up trees to take them to be shaken and netted and they have a barn full of pre-cut trees to choose from as well. Each tree sold comes with a commemorative yearly wooden ornament that you can decorate it with! This year, they are encouraging everyone to wear a mask when in the office checking out and for customers to stay in their vehicles as much as possible during the shaking and netting process. They also encourage customers to bring their own saws and to recognize social distancing during their time on the farm, but they will still be selling wreaths and tree stands. Make sure to stop by and check them out!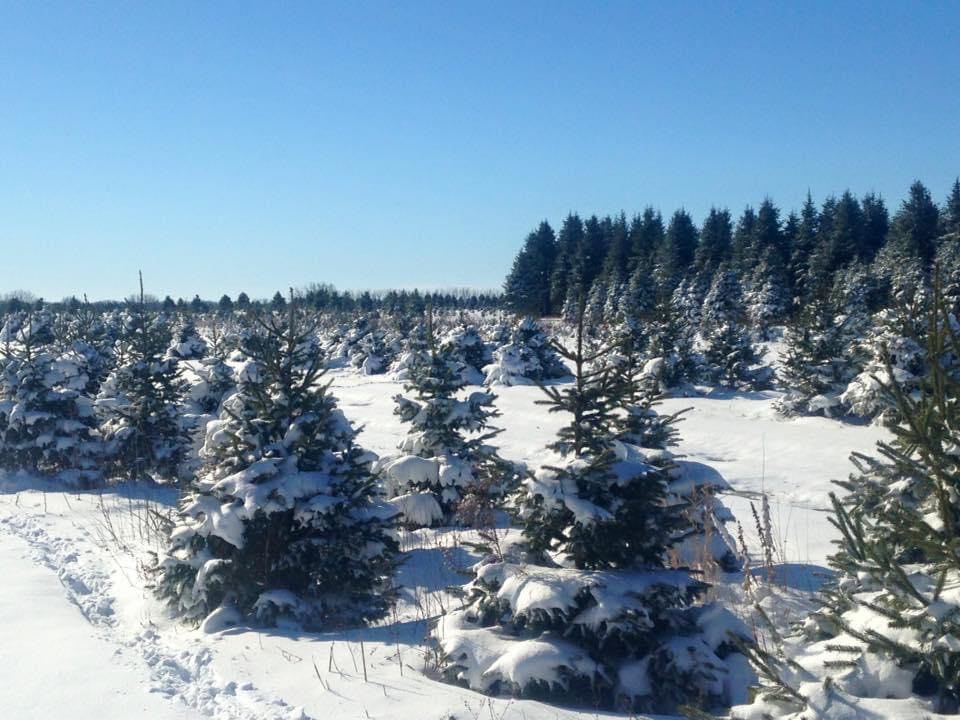 Howell Tree Farm
3145 Howell Ct. Cumming
Howell Tree Farm started in 1963 as a family business venture to send their 7 kids to college and now almost 60 years later, the third generation of Howells will continue the tradition of planting, trimming, and weeding the trees. The Howell Tree Farm has grown to 50 acres of top-quality evergreens. Howell Tree Farm is located 20 minutes from Des Moines in Cumming, Iowa and beginning today you can come out and pick out your own tree! They will cut, shake, wrap and load the tree you picked out onto your vehicle for you and if you purchase one of their tree stands, they'll mount it for a small fee. They also have gorgeous holiday wreaths, centerpieces, 'patio trees' and special arrangements available for you to shop around for. Make sure to have a cup of coffee or hot cocoa and have the best time here!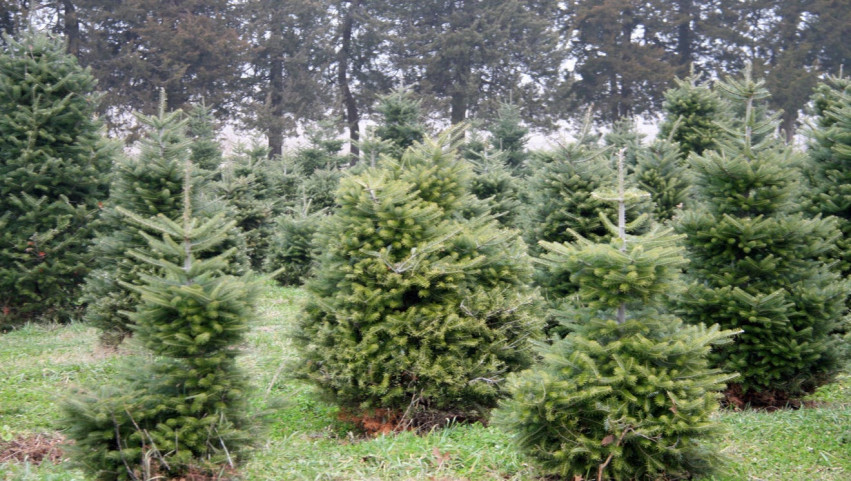 The Christmas Tree Farm
33459 663rd Ave. Maxwell
This Christmas Tree Farm has a lot of history! The Christmas Tree Farm started planting 2,200 trees in the spring of 1992. They originally planted Scotch Pine and White Pine, but it took around 6 years before those trees were big enough to harvest. Since then, they have planted more trees every year and are not up to 4,000 trees and plant replacement trees every year. They have included the Fraser Fir, Canaan Fir, and Concolor Fir to their planted trees. You are allowed to tag your trees here which you can find your tag in the mailbox of the Shop Door and once you write your name on both halves of the tag, put the bottom half of the bag back in the mailbox. When you find the tree you want, put the tag and the three ribbons on the tag onto the tree. You don't have to pay for your tree until you pick it up and their prices are $8/foot for Fir trees and $7/foot for Pine trees. They provide a sanitized hand saw and a sled for you to cut down and pull it back to the shop where they will measure, shake and net the tree. Their gift shop is also open right now for tree disposable bags, tree stands, holiday wreaths, centerpieces and greenery. They will be open for Harvest on November 27th from 9am - 5pm and Santa will be at the Tree Farm the last weekend of November and first weekend of December, so you know this Tree Farm is a good one!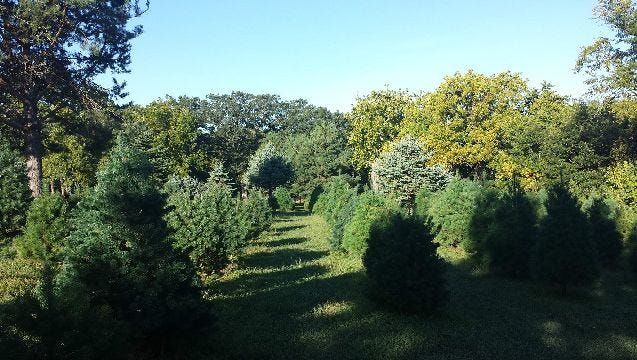 Kris Kringla Christmas Tree Farm
12992 590th Ave. Roland
Kris Kringla Tree Farm is open from 10am - 5pm on the following dates: November 27, 28, & 29; December 5 & 6; December 12 & 13; December 19 & 20. They are located one mile west of Roland, IA on Highway 221/ E18. They have hundreds of trees to choose from and love this time of year. Each tree they sell for $41 and they do not do pre-tagging. They also have fresh, hand-made wreaths that would look lovely hanging on your front door. Head on out to get the best Christmas Tree!